LoL commentary for beginners ~ Recommended champion TOP ① ~
---
Here, we will introduce the TOP champion recommended for beginners.
Nasas / Nasus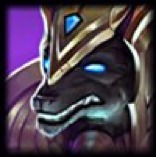 I think that you can better understand the importance of the last hit by using Nasas as a beginner. Also, since the last hit by Q is the most important, it is also a novice recommended champion for a practice to take the last hit.
advantage
You can maintain your physical strength with Passive.
Since the firepower will be raised by taking the last hit in Q, the more you become the late game, the less you can put your hands on.
It is possible to extremely lower AS and MS with a powerful throw of target specification by * W.
It becomes harder by Ult and it is strong also for endurance fight.
disadvantages
Because it tends to depend on the stack of Q, it takes time to restart if you can not take the last hit in the early stage.
Although the final stage is strong, there is not much that can be done only by focusing on the farm early in the opening stage.
Marufite / Malphite
I think that it is possible to memorize it in playing the timing of the initiate because it is easy to make an important initiative in LoL's group warfare with Ult.
advantage
Ult's initiative's strength (collective battle can start at this favorable timing)
Automatically generates a shield that protects itself by Passive.
Damage to skills increases as AR increases, so it is strong on AD champions.
disadvantages
It tends to depend on long Ult of cool down. Without Ult you can not do anything.
Mana management in the early stages is severe.
Well then.